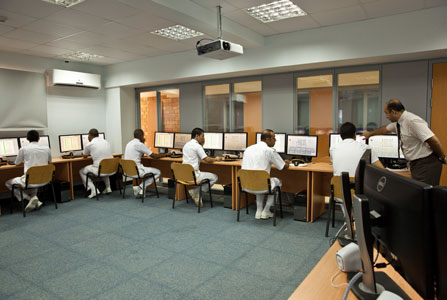 Liquid Cargo Handling Simulator
---
TRANSAS Liquid Cargo Handling simulators are designed to train and certify crewmembers of liquid cargo tankers, as well as other staff responsible for the safe cargo handling and the operation of auxiliary equipment. Liquid Cargo Handling simulator provides an exact, detailed copy of vessel/terminal systems and its compartments. This simulator is an ideal solution for training centres, academies, government authorities, shipping companies, coastal centers and crewing agencies. The simulator also enables onboard training and demonstration of competency. Liquid Cargo Handling Simulator replicates a cargo control room, allowing a comprehensive study of the tanker and terminal layout, including its machinery and systems according to international standards and requirements:
General arrangement of the tanker and its systems
Maintenance of the tanker systems at management level
Control of vessel ballast system
Control of trim, stability and stress
Read More ...
Natural Gas & Petrochemicals Simulators
---
The Simulator introduces new training methods to supplement the traditional methods on board training. The liquid Cargo operations simulator provides real time simulation of the process Flow Control Systems used in storage and transfer of potentially hazardous bulk liquid from shore to ship and ship to shore. The Simulator allows a range of courses to be offered which are presently applicable to both ship and shore involved in handling of LNG, LPG, Crude oil, oil Products and Chemical Cargoes.
Read More ...