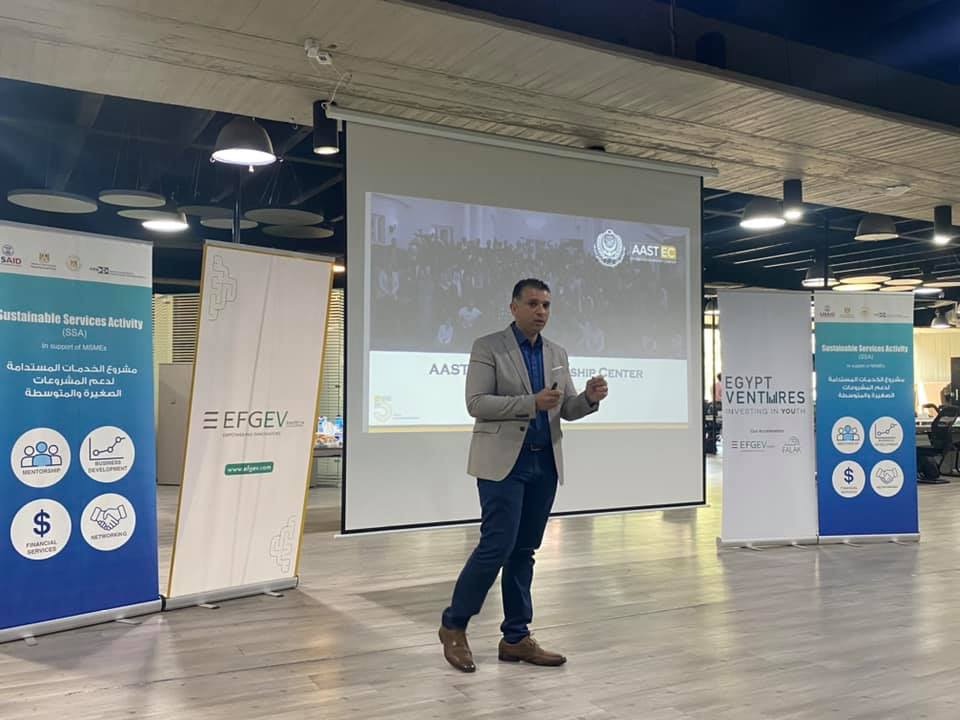 Dr. Wael Eldesouki, presenting AAST Entrepreneurship Center during the incubators ecosystem meeting at Falak Startups in partnership with USAID SSA project.
Falak Startups, Powered by the Egyptian Ministry of International Cooperation and its venture capital arm, Egypt Ventures.
Falak Startups' mission is to find and empower talented and ambitious seed stage tech startup founders and help them thrive in the region's rapidly changing entrepreneurship landscape. Our sector-agnostic offering focuses on improving startups' product-market fit fine-tuning their business, operating and revenue models growing their customer base and raising follow-on investments. Falak Startups' is offering an unrivaled ticket size of up to 2,000,000 EGP and provides the support startups need to gain momentum and accelerate their growth. Falak also supports its portfolio of startups in securing follow-on investments from venture capital firms, angel investors, and/or corporates.

Although Falak Startups is industry agnostic and focuses on tech-enabled and scalable startups, we have an additional focused track that specializes in Financial Technology powered by EFGEV. We also foster sub-tracks that are sector-specific with the support of key industry partners.